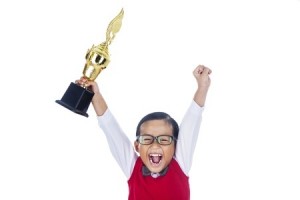 The end of the school year means sweet, sweet summertime! But before classes dismiss, there are sports banquets, graduations, club award ceremonies, academic achievement award ceremonies and so much more – not to mention celebrations for teaching anniversaries, milestone retirements and other special occasions.
When you are looking to give your players, students, teachers or staff an award to honor their achievements, career accomplishments or hard work, give them something they will cherish forever. There are plenty of ways to say "thank you" or "good job" that are just as meaningful – if not even more – than high fives and cheap ribbons.
Plaques are the perfect gift to give a coach or employee at the end of their career. They are designed to truly congratulate someone, whether in honor of their years of tenure, significant academic achievements or their career coaching record. You'll often see engraved plaques hanging on the walls in schools and on teachers or principals' desks.
Art Glass awards have a unique look that's sophisticated, sleek and modern. The best part is you can engrave whatever message you want on them, making them entirely customizable for any occasion or recognition.  We have a large selection of Art Glass, Crystal and Acrylic awards so you are certain to find just the right presentation for the occasion.
Trophies also bring joy to those who receive them. They're a great way of saying "excellent job this season" and "thank you for your hard work." If you want to give your players something that will bring a smile to their faces, and will find a special place in their home for all to see, give them the gift of an engraved trophy. Personalize each trophy with individual names or even distinct awards, like "MVP" or "Leadership Award," to make them even more special.
As the school year winds down, think of what you can give to someone that's meaningful, personalized, and displays their achievements perfectly. Then call the team at Signs, Plaques & More and let us take care of making special awards of excellence to recognize those important members of your team. Call us today at 757-463-5430 to learn more or better yet come into the showroom to see the large variety of gifts and awards to choose from.  We look forward to working with you to make each and every recognition presentation a memorable event.