It seems that each year there is always someone on your holiday shopping list who you just can't quite find the right gift for. Maybe you can never think of a good idea for your dad, or your sister is kind of picky, or you have no clue what gift is appropriate to get your boss.
This year the struggle is finally over! At Signs, Plaques & More you will find a wide array of holiday gifts for everyone on your list – even those who are a little bit tougher to shop for.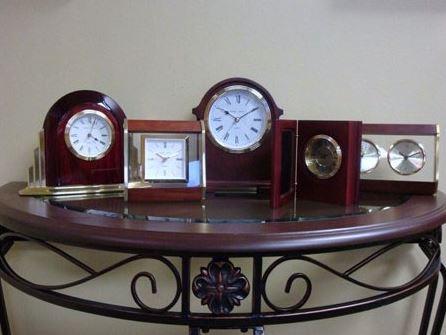 If you have a family member or friend that just found a new job or got promoted to a new position, celebrate their success with a personalized Christmas gift. You know he or she will be enthusiastic to share their new, shiny business cards with everyone, so help them do so in style with a custom business card case. Add their monogram, company logo or their name and new title for a unique gift that will be used for many years to come.
Do you have a friend in the military you are shopping for this holiday season? Look no further than Signs, Plaques & More for an American Eagle sculpture with personalized engraving. Whether you would like to include your friend's name and rank on the plaque or are planning to engrave it with your own custom appreciation message, this one-of-a-kind gift is the perfect way to spread holiday cheer and say thank you for your service.
Shopping for your business partner, coworker or boss can be tough. Since you spend hours and hours with this person each week, you want to give a gift that is both thoughtful and practical – and, of course, appropriate for the work place. A customized desk clock featuring your coworker's name and your company's logo is an ideal gift that will look great on his or her desk.
If you are lucky enough to have a wonderful teacher that connects well with your children and values their education, finding the right holiday gift to show your appreciation is important. Consider treating your child's favorite teacher to a marble gold and red apple engraved with his or her name. This will look great on a teacher's desk and will be a nice reminder that parents really do care about the hard work that teachers do every day.
No matter who you are shopping for this holiday season, Signs, Plaques & More can help you find the perfect gift to make a great impression. For more ideas or to place an order, stop by our store on Holland Road in Virginia Beach or call us today at 757-463-5430.